If you are experiencing an unplanned pregnancy and are considering adoption, you probably have a lot of questions. Here are some frequently asked questions from women who are pregnant and considering adoption: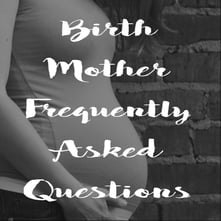 Why should I work with an agency?
An adoption agency will educate you on all of the options you have and what happens in the adoption process, as well as connecting you to your own attorney and any other services you may need. They can help you get pre-natal care, connect you to a counselor, and walk you through the entire process. They will make sure you have the post-adoption contact agreement you want and help you find an adoptive family and establish a relationship with that family. An agency will help make sure your rights are protected and you are not taken advantage of.
Will this cost me anything?
No. There are NEVER any costs to the birth mother for making an adoption plan. Your attorney, any counseling you may receive, your healthcare costs, and even some living expenses will be paid for by the agency and/or adoptive family you choose.
Do I get to choose the family for my baby?
Yes, absolutely! Your agency will help you find family profiles to look at that fit your desires (i.e. a Catholic family, a single-parent family, an only-child family, or any other type of family you wish to consider). After you have selected a few families you would like to meet, your agency will help you set up an informal meeting with potential adoptive families so you can get to know them better before you make a decision.
Are social workers going to pressure me to place my baby, or to choose a specific family?
NO. Never. If you are working with an agency and you feel like they are pressuring you, you should stop working with them. Adoption agencies are there for you to educate and support you as you make your own decisions. You have the right to choose whatever family you wish, and to change your mind about any aspect of your adoption plan at any time before the adoption becomes official. If you simply want to learn about adoption options, an adoption agency should welcome your questions and respect your choices, no matter whether you choose to parent your child or place the baby in an adoptive home.
After I choose a family, is the adoption official?
No. Before the birth of your child, your adoption plan is just that- a plan. You will not sign any documents regarding the adoptive placement of your child until after the birth. You can alter the plan or change your mind at any time.
How can I be sure my baby will be safe and cared for?
Before families are approved to adopt, they go through a very extensive and thorough process with an adoption agency to make sure they are a good family and can parent a child or children. Before you see their profiles, they have gone through months of interviews with social workers, criminal and child abuse background checks, a home study process, and much more in order to ensure they are good people who a baby would be safe and happy with.
After an adoptive placement, social workers are required to check in on the family and do what are called post placement reports. This ensures that the baby is well taken care of and the family is adjusting well.
How soon does my baby go to the adoptive parents I choose?
Typically, the adoptive parents will take the baby home from the hospital. This usually happens within a week, depending on the health care needs of the child.
Do I get to see my baby in the hospital?
Yes! You make your own hospital and birthing plan, just like any other mother. Some women choose to not see their baby after birth, but many spend time with their child after birth. It is all up to you. You can spend as much or as little time with your child in the hospital as you wish. You can invite the adoptive parents you have chosen to the hospital if you'd like to. Some women have chosen to have one or both of the adoptive parents present for the birth, or have invited them in the next day. Some choose to have their social worker physically hand over the child, and many do that themselves.
What happens at the hospital is up to you. Your social worker will be there to support you during and after the birth, and will make sure your wishes are followed.
Do I get to see my baby after the adoption?
Yes, if you would like. Before the birth, you and the adoptive family will work out apost-adoption contact agreement (PACA). This legal document says when and how you will receive updates on your child, and how often you will visit with the child and adoptive family. Your wishes guide what goes into the agreement. Many birth mothers receive letters and photos once or twice a year and have a schedule of when and where they can visit with the child and adoptive family.
In the rare case that an adoptive family does not uphold their part of the agreement, the PACA is enforceable in New York State courts, as long as an adoption agency oversaw the creation of it.
Is adoption permanent?
Yes. Once the child is born and the adoption process is complete, the adoptive parents are the forever family of the child.
What if I change my mind?
In New York State, you have 30 days after placement to change your mind. If you do, your adoption agency and your attorney will guide you through this process.
What if I don't know who the birth father is?
That's OK. If the birth father is unknown, then you will be making all adoption decisions yourself. You don't need to try to find out who he is.
I know who the father is. Can I hide my pregnancy from him?
Unfortunately, no. Birth fathers do have certain legal rights when it comes to your adoption plan. It is important to speak with your agency and attorney about who he is and what actions he has taken after he learned of the pregnancy. If he has taken certain actions, he may need to consent to the adoption. If he has not supported you at all, you probably will not need his consent. It is very important to speak with your lawyer about the father.
Have any other questions? Family Connections, Inc. is an approved New York State child placing agency who has received Hague accreditation through the Council on Accreditation. Family Connections works with birth parents to help them explore their adoption options. Family Connections works with adoptive families to provide home study services, and post placement/post adoption services throughout New York State. If you are experiencing an unplanned pregnancy and want to explore your options, you can contact Anita or Renee at 607-756-6574 or 1-800-535-5556, or click the button below.