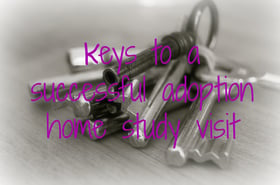 People going through the adoption process get anxious when they think about a social worker coming to their home for a home visit. Relax and take a deep breath, most people actually say this is a wonderful experience. It is a great opportunity for you to ask questions and learn more about your adoption expectations and the adjustments your child will experience when joining your family. Here is an idea of what to expect during your home visit:
The purpose of the home study visit:
To be sure the prospective adoptive family and their home comply with the State and local laws regarding the safety, care and placement of children.
Help families explore their adoption options and provide them with the information they need to make the best decisions regarding adoption and their family.
Meet the family in their environment and learn more about the family as a unit so that they can help ensure a good match between children and families.
What the social worker may ask about during the home study visit:
Your childhood, significant life experiences, marriage, immediate family and close relationships
Why you want to adopt, infertility, and health history
What plans you have after the child comes home
Your parenting skills and/or experience with children
Education and work history
What kind of child you want to adopt, age, race, gender
How your extended family and friends feel about your adoption plans
How you and your spouse deal with conflicts and make decisions
What your community is like, are there parks, schools and medical care nearby
Your religion, hobbies and interests
There are many areas the social worker will explore with you during the home study visit. Being honest, candid and forthcoming will only help to ensure that your adoption proceeds to the benefit of you and the child. Anxiety over the social worker coming to your home is understandable but keeping the home study visit in perspective will help you through the home study process. The paperwork and documents that you submit to your agency prior to your visit will help the social worker get an idea of who you are.
Family Connections, Inc. performs both domestic and international home studies throughout New York State and provides free consultations to help educate families about the adoption options available to them. Family Connections, Inc. is an authorized New York State child placing agency who is Hague Accredited through the Council on Accreditation. If you would like more information about the adoption options available to you please call us at 607-756-6574 to schedule a consultation. Click on the link below to receive a helpful guide to the home study process.