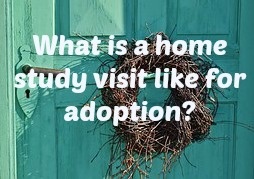 Are you wondering what to expect during your adoption home study visit? Just thinking about this visit can make you anxious but knowing what to expect can ease your fears. Here is an overview of what to expect:
The purpose of the home study visit:
To be sure the family and their home comply with the State and local laws regarding the safety, care and placement of children.
To help families explore their adoption options and provide them with the information they need to make the best decisions regarding adoption and their family.
Meet the family in their environment and learn more about the family so that they can help ensure a good match between children and families.
What the social worker may ask about during the home study visit:
Your childhood, significant life experiences, marriage, immediate family and close relationships
Why you want to adopt, infertility, and health history
What plans you have after the child comes home
Your parenting skills and/or experience with children
Education and work history
What kind of child you want to adopt, age, race, gender
How your extended family and friends feel about your adoption plans
How you and your spouse deal with conflicts and make decisions
What your community is like, are there parks, schools and medical care nearby?
Your religion, hobbies and interests
You will cover many areas of your social history during the home visit
Remember to:
Be honest, candid and forthcoming.
Be upfront about any past histories
Relax and enjoy the experience, so that you will be able to share this part of your child's adoption story with them some day
Make a list and ask any questions you may have, this will benefit you and your future child
Family Connections is a New York State authorized adoption agency that has acheived Hague Accreditation through the Council on Accreditation. Family Connections, Inc. performs both domestic and international home studies throughout New York State and provides free consultations to help educate families about the adoption options available to them. Call us at 607-756-6574 to schedule a consultation.