---
It is no secret that adoption is an expensive endeavor. If you are an American of Pakistani heritage or have connections in Pakistan, adopting from Pakistan can be a wonderful, affordable adoption for you. While it is still a complex process and the cost is no small expense, it is comparatively cheaper than other international adoption options.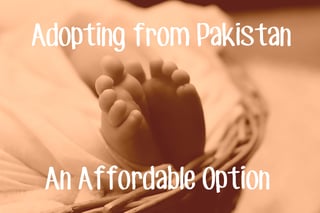 At first glance this may not seem to be true as new changes in Pakistan adoptions due to the implementation of the Universal Accreditation Act (UAA) that went into effect in July of 2014 increased the costs of every international adoption. These costs were passed along to the client.
To begin with, the federal government grants and adoption tax credit for the tax year when the international adoption is finalized. This tax credit is approximately $13,400, and it changes slightly every year. If you make less than $250,000.00 per year the tax credit can help offset much of the cost of your adoption.
Another way you save on costs is doing much of the in-country work yourself rather than paying someone in Pakistan to do it for you, such as locating a child to adopt, obtaining the birth certificate and passport, and other necessary steps in your adoption. Pakistan is a non-Hague country, which results in foreign adoption agencies not being able to operate in the country. This means that you must navigate the custody and guardianship process in Pakistan yourself, with the help of a Pakistan attorney that you hire. In many other programs and countries you have to pay a facilitator or a US agency to accomplish this task.
Family Connections, Inc., is a New York State authorized agency that is Hague Accredited through the Council on Accreditation. The agency is a primary provider for Pakistan adoptions throughout the United States and they can also provide home study services for families who reside in New York as the agency has home study social workers throughout New York State.
Family Connections has been loved seeing families come home from Pakistan with their new children. Many families are able to adopt babies that are just a few days or weeks old, which is wonderful for the child to be in the care of their loving forever family as soon as possible after birth.
All children adopted from Pakistan must be adjudicated by the US embassy to be a legal orphan according to the Immigration & Nationality Act. Consulting with a US immigration attorney before you become a guardian of a child in Pakistan can help you avoid a situation where you obtain legal guardianship in Pakistan but cannot obtain a US visa for the child to enter the US. Here at Family Connections, we have you work with a wonderful immigration attorney who has tons of experience helping families immigrate children adopted from Pakistan. In addition to ensuring your chosen child will meet the orphan guidelines, guiding you through the immigration process and making sure the visa process goes smoothly, she can refer you to a good, reasonably priced attorney in Pakistan to help you through the guardianship process in the Pakistan courts. Our immigration attorney charges a flat rate and really knows what she is doing. Attorneys who charge a flat rate generally have lots of experience and are confident in their abilities. Otherwise, they would charge hourly which could end up costing you if they make a mistake and end up having to work hours and hours more than they thought they would on your case.
Children can be located in private orphanages operated by foundations (like the Edhi Foundation or SOS Children's Villages) or in government orphanages in various cities in Pakistan. As a prospective adoptive parent, you will have the opportunity to take your prospective son or daughter to a Pakistan Pediatrician to be evaluated when a child is handed over to you by the orphanage. This is important as many children who qualify to be adopted by Americans are abandoned and the parents of the children are unknown. This means that a child's social, genetic and medical history is a mystery. Family Connections provides adoptive families with a suggested medical form for you to take to a pediatrician in Pakistan for the evaluation. This evaluation will provide you with the earliest possible medical history you will have on your prospective adoptive child. The evaluation is completed before you have any legal connection to the child as the orphanage cannot legally place a child they only hand over the child for you to meet and consider adoption.
Family Connections, Inc. also has a relationship with a Pakistani-American pediatrician who is available to give our clients advice free of charge. This pediatrician who is volunteering his services is also available to consult with our clients as they are deciding if they are a good resource for the child that is handed over to them. The Pediatrician is working with Family Connections to identify Pediatricians in Pakistan that would be good resources for our families.
If you work with Family Connections on your Pakistan adoption, Family Connections will help you locate and obtain the services of a competent and qualified attorney in Pakistan (to obtain guardianship) and the US (to finalize the adoption). As part of our adoption primary provider service you will have the services of an immigration attorney who is experienced with Pakistan adoption specifically. This will prevent you from making legal errors that could prevent or delay you from obtaining a visa for your prospective adoptive child. The merging and coordination of Pakistan laws and US laws regarding adoption can be a tricky technical legal process and requires the services of a qualified, experienced attorney in the US. Many families who have run into legal issues with the US government regarding the orphan definitions or home study requirements have received inadequate legal advice. Obtaining good legal advice can keep your adoption cost down and make the process go as quickly as possible.
Family Connections, Inc. is a fees-for-services agency. This means that you only pay for the services you use with us. You can see our fee schedule on our Pakistan information page to get an idea of our fees.
Of course there is much more information on Pakistan adoption. Check out Family Connections, Inc. Pakistan blogs at www.adoptfamilyconnections.org or give us a call at (607)756-6574 or (800)535-5556. You can also email Anita Stevens, our executive director, at anita@adoptfamilyconnections.org or click the button below to ask us your adoption questions. We welcome conversation regarding adoption from Pakistan and would be happy to speak with you!
---