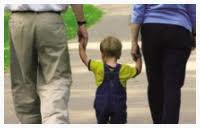 November is National Adoption Month, a month long celebration of adoption! Building your family through adoption can be a beautiful life changing experience. While celebrating those who have been adopted is a piece of National Adoption Month, the other side is to help shine a light on the number of children waiting for a forever family. There are many children all over the United States that are in foster care and waiting to find a family to call their own. According to the Children's Bureau each year there are more than 100,000 children waiting in foster care, waiting to find their forever family. All children need a sense of belonging. Adopting through the public foster care system can be an option for those families looking to expand or grow their family through adoption. What are some things to consider when adopting through the public foster care system?
Here are some things to consider:
Do you have what it takes to help a child reach their full potential by giving them the family they desire?
What age child do you want to adopt and how will that child fit into your family (most the children waitng in foster care system are older)?
What resources do you have in your family, community and local school to help a child with their special needs?
Can you parent a child with special needs (i.e.emotional, behavioral, developmental or physical challenges?
Would you be willing to adopt a sibling group?
Are you able to parent a child who may have faced physical, mental, emotional, or sexual abuse?
Are you interested in adopting a child of a specific gender, race or culture?
Would you be willing to maintain contact with other siblings or family members of the child you are adopting?
Are you willing to parent a child with developmental delays or who has been diagnosed with a learning disability?
Can you love a child that is not related to you and give them the security and sense of family they need?
Can you help a hurt child learn to love and become part of a family?
These are the questions you need to ask yourself when considering adopting a child through the public foster care system. They are questions you need to think long and hard about. You need to answer them honestly and specifically through research and education in order to help a child adjust well in your home and family. It is important to consider all the different factors of adoption and the public foster care system. Be sure to understand that it is an intricate and lengthy process to bring a child home and that it is a lifelong commitment but it will change the life of child.
You can find more information about National Adoption Month at http://www.nationaladoptionday.org
You can view the profiles of children currently waiting in the public system for adoption at
Family Connections, Inc. is an authorized child placing agency that has achieved Hague Accreditation through the Council on Accreditation. Family Connections works with New York families to provide home study services, for domestic (agency, public and private) adoption, international adoption, and post adoption/placement services. If you want to learn more about your adoption options Family Connections offers a free no-obligation consultation. To schedule an appointment you can contact Renee or Anita at 607-756-6574 or by clicking on the link below.