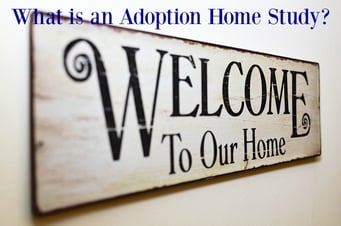 Adoption starts with becoming a qualified adoptive parent. To become an approved/qualified adoptive parent you must complete a home study investigation. The home study process begins by researching and choosing the right agency. Whether you are adopting internationally or domestically you will want to explore all the options available to you. Outlined below are the steps necessary to complete a home study investigation:
Complete an application for home study services and submit all necessary documents to your adoption agency.
Meet face-to-face with a licensed social worker from the adoption agency. This meeting will occur in your home. The social worker will interview you and all members of your household. The social worker will inspect your home to ensure it meets the safety standards set forth by your state.
Obtain child abuse and neglect history reviews from any state or country in which you have lived since turning 18. Your adoption agency will help you obtain the necessary forms and can tell you the steps involved.
Obtain state and federal criminal history reviews from your state of residence. Each state has their own system and requirements. Your adoption agency will help you get your fingerprints taken for these reviews.
Have medical report documents completed for all members of the household.
Complete autobiographies, informational forms and questionnaires as provided by your adoption agency.
Provide documents verifying your income, assets and liabilities to your adoption agency.
Obtain adoption reference letters from friends, clergy, co-workers, childcare providers, etc.
Submit proof of birth, marriage(s), or divorce (if applicable) to your adoption agency
Complete all required adoption training (requirements vary depending upon adoption agency and country from which you plan to adopt). These are typically online training seminars that allow you to complete them on your own time at your own pace.
The home study process can seem daunting, a good adoption agency can help you through each step. Typically a home study process takes two to four months to complete. After all paperwork has been reviewed and the social worker has visited and approved your home, you will be approved as prospective adoptive parents and begin your journey to bring home your child.
Family Connections Inc., is an authorized New York state child placing agency who has achieved Hague Accreditation through the Council on Accreditation. Family Connections, Inc. provides home study and post adoption/placement services for both domestic and international adoptions. If you would like to explore your adoption options you can contact Anita or Renee at 607-756-6574 or click on the link below: