Most birth parents who choose to make an adoption plan for their child choose open adoption. In an open adoption, the birth mother and/or birth father choose to have an ongoing relationship with their child and the adoptive family they choose for their child. The rules and laws governing open adoption vary by state, so what does "open adoption" mean in New York State?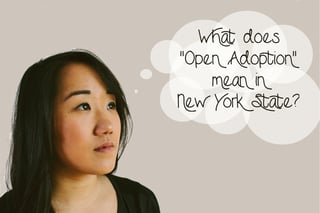 Open adoption is a choice that has been validated by New York State Courts. In New York, the birth parents and adoptive parents agree on and sign a Post Adoption Contact Agreement (PACA). The birth parents and adoptive parents agree on what sort of contact they will have after the child is placed with the adoptive family. This can include sharing pictures, sending letters and scheduling visits. All post-adoption contact specified in this Agreement is enforceable by the courts in New York. (This PACA is only available to birth parents when an agency has matched the birth family and the adoptive family and is part of the adoption.) Open adoption in New York works best if both the birth family and adoptive family live in New York.
Open adoption allows the birth family to receive regular updates on how their child is doing via pictures and letters and allows for scheduled visits, if desired. It gives birth parents some peace of mind, and allows the adoptee to know their birth parents and know where they came from. In New York, birth parents do not need to worry that the adoptive parents will stop sending letters and pictures or refuse to schedule visits because their rights regarding post adoption contact are protected by the courts.
Adoption is hard for many reasons, but open adoption can ease some of the burden as well as bring joy for the birth mom, the adoptee, and the adoptive parents. We encourage birth parents to work with an adoption agency that supports open adoption options and to consider having some form of an openness with the adoptive family.
If you have questions about open adoption, please feel free to contact us at the office or click the button below to ask your adoption questions. Our adoption professionals are caring and respectful, and would be happy to answer any questions you may have. Any communications with our office are free of charge, no-obligaiton and absolutely confidential.