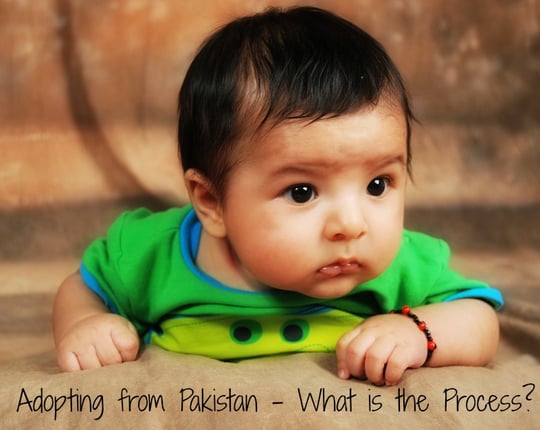 If you are exploring adoption from Pakistan here are some things to consider:
Adoption in Pakistan is done privately, usually with the aid of a state orphanage or a private orphanage as there are no authorized child placement agencies either foreign or domestic that are licensed, authorized, or accredited in Pakistan to place children.
The choice to identify and accept a child for placement from the country of Pakistan is your choice alone.
United States laws and regulations require that any child placed into the home of a US citizen by an adoption or guardianship process is required to meet the definition of "orphan"

according to the

Immigration and Nationality Act. If the child does not meet the definition, you will not be able to get a visa to bring the child to the United States.
Because the process in Pakistan can be different from most countries, in that the process is a guardianship process, the advice of a knowledgeable US immigration attorney is essential to a smooth adoption process.
There may be little or no information about the child as many babies are abandoned or left with no medical or birth parent information.
You will need to file for Guardianship of a child by petitioning the Family Courts in Pakistan using an attorney in Pakistan.
After immigrating to the US you will need to finalize the adoption in the US in your state of residence.
As part of Primary Provider services, Family Connections will provide you with an immigration attorney to help you through the immigration process of an adopted child.
Why do I need a Primary Provider?`
Since the implementation of the Universal Accreditation Act in July 2014 it is necessary for a Primary Provider to supervise all aspects of your adoption process in Pakistan and the US.
A Primary Provider makes sure that all parts of your adoption process are compliant with US laws and regulations for International adoption.
A Primary Provider is necessary for and helps you file your I600A with the USCIS.
You need a Primary Provider to provide you with an Adoption Service Plan when you submit your I600.
You may be able to obtain guardianship of a child according to Pakistan law but you cannot obtain a US visa for the child unless you have a Primary Provider to supervise your home study process, placement process, post placement process and your finalization in the US.
Having a Primary Provider does add an additional expense to Pakistan adoption but it also provides you with the help to navigate the legal process in Pakistan preventing long stays in Pakistan.
What happens after I find a child?
Stay in contact with your Primary Provider and the immigration attorney. This attorney can help you document that your chosen child meets the US definition of a legal orphan.
Only the Family Court Judge in the child's area of Pakistan can make a judicial determination concerning the placement of the child.
Once you receive Guardianship you will then file your I-600 and wait for a visa interview appointment and at the interview you will file your Visa application (DS-260).
Once you have gone through the visa interview process, you may be granted an IR4 visa and you are able to travel back to the US.
After arriving home you will need to finalize the adoption of your child in the US to be sure that they receive a United States Citizenship Certificate. You will need to retain an US adoption attorney.
Your Primary Provider or home study agency can provide you with the names of a knowledgeable adoption attorney.
How long does the process of adoption from Pakistan take?
The adoption process time line varies greatly depending on how quickly you move along your paperwork for your home study and also how quickly your home study agency completes the process.
A typical home study takes anywhere from two to four months to complete.
After you file your I600A it takes about 30 to 90 days to receive approval or disapproval of your application by the USCIS to adopt
After receiving approval to adopt, you can travel to Pakistan or apply to an orphanage and wait, depending on where you are adopting from and the availability of children, this time frame is unknown. It is typical to be in contact with the orphanages prior to travel and they may contact you saying a child is available this can save you time overall.
Once a child is placed with you it takes about 30 to 45 days to receive Guardianship of the child and obtain a birth certificate and passport for the child.
After receiving Guardianship of a child you will then file your I600 and DS-260 then wait to receive I600 approval and a visa interview appointment. Typically this step takes about 3 to 4 weeks but can take longer.
You will know within 24 hours of the visa interview if your child will receive a visa, you will pick up your visa and travel home.
We are seeing the adoption Process in Pakistan take an average of 12 months from application to receipt of a Visa. Please note that this time varies with each individual case and so much of the timing can be effected by you or by circumstances beyond anyone's control.
For more information on Pakistan Adoption contact Family Connections, Inc., a Hague Accredited Adoption Agency acting as a Primary Provider for Pakistan at 607-756-6574 or 1-800-535-5556
Family Connections, Inc. is an authorized New York State adoption agency who has achieved
Hague Accreditation from the Council on Accreditation. Family Connections provides home study and post-adoption supervisory services for families adopting internationally. Family Connections, Inc. also acts as a Primary Provider for families adopting from Pakistan. We are happy to report that families who follow our guidelines for adoption from Pakistan have had much success receiving visas.