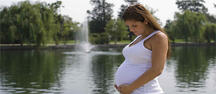 Making a decision to find an adoptive family for your unborn child is probably one of the most important and difficult decisions you will ever make. An unplanned pregnancy may create a crisis in your life. You may not be ready to parent a child because you are young and have not yet finished your education or you may be a parent to other children and feel that you do not have the capacity to parent one more child. Perhaps you want to give your child a more stable childhood than you had or provide your child with a different kind of life. Whatever your personal reasons, Family Connections, Inc. is ready to support your decision-making regarding parenting or adoption.
If you choose to make an adoption plan for your unborn child, Family Connections, Inc. is an adoption agency with many qualified adoptive families who are waiting to adopt a baby. All of the families have been fully investigated and approved to adopt a child. You choose the adoptive family for your child. You can choose a family after reviewing their family profiles (website, book, or video profiles) or after you meet one to three families over lunch or dinner. As a birth parent you can ask any questions you want to ask about the prospective adoptive families. After you get to know the families, who can choose an adoptive family for your baby.
By working with an agency such as Family Connections you don't have to tell a prospective adoptive parent that you have chosen another family or have decided to parent your child. The agency can tell the family in a supportive manner and will have prepared the family for this possibility. If you feel uncomfortable asking the family questions, the agency can ask the family for you. The agency can help you work out the post adoption contact agreement with the prospective adoptive parents by providing you with options, suggestions, and examples of agreements. Whatever agreement you and the prospective adoptive parents work out will be personal to you and them and reflect your wishes and values.
Family Connections believes that every person has the right to self determine. This means that we educate you regarding adoption, the state regulations, your options and choices and we believe that you, the birth parent, is the person who chooses your adoption plan. You choose the adoptive family and the type of adoption you wish for - open, semi-open, or closed.
Before you make any decisions, you should also have the opportunity to meet with an attorney who will educate you and explain the important legal matters in all adoptions. All of the cost of the legal services will be paid for by the agency even if you change your mind about adoption. This is New York State law.
Working with Family Connections means that you will not have to ask for services, we will ask how we can help you. Financial assistance can sometimes be difficult to ask for however New York State has laws and regulations that allow for financial assistance. The agency can also help you to connect to public services you may need after you have made an adoption plan for your child so that you can care for yourself financially and pursue your goals.
The staff at Family Connections would be honored to support your adoption plan. Please contact Anita or Renee at 607-756-6574 or info@adoptfamilyconnections.org to learn about your adoption options. Please know that all calls, e-mails, and meetings are confidential and all services are free. We look forward to hearing from you.