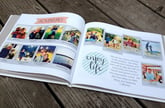 Prospective adoptive parents will use family profiles to reach out to potential birth families. Family Connections, Inc., an authorized New York State adoption agency, reaches out to potential birth families using an array of prospective adoptive family profile (e.g. Web profile, magazine summary, video profile, and a Family Portfolio). Each profile is an opportunity for you to present your family for consideration by birth families.
Getting Started
What Do I Include in My Profiles?
Your book portfolio, web profile, magazine summary, and video profile will all contain similar information but in varying formats and quantity. Each profile is an opportunity to invite the birth parent to get to know you. All of your profiles should contain:
Pictures, Pictures and More Pictures: It is true that a picture is worth a thousand words. Have pictures that reflect who you are and your lifestyle. Before any birth mother reads your profile they first glance at your pictures. If they connect with you through your pictures they will then want to read about you and hopefully meet you.
Text/Narrative: Tell your family's story. Be brief but descriptive. Make the text interesting and fun to read.
Video: Action video clips of you engaged with your children and family or participating in your favorite activities, you "chatting" with each other and the birth mother, and still pictures will engage a birth parent's interest.
Be Yourselves! Have the pictures, videos, and text reflect your personality, life style, and family culture.
How Do I Prepare?
Creating your adoptive family profiles can seem overwhelming but fun! This is an important part of your adoption journey; enjoy the process. The more forethought and preparation you do the easier it will be to create your family profiles.
Outline each of the profiles you are creating - include the content and organization of the information
Gather interesting pictures and video that:

reflect who you are
include your nuclear and extended family
match what you wish to share about your family - if you talk about camping as a family be sure to have pictures of you camping
express your personalities - fun, exciting, relaxed, silly, adventurous, introspective, etc.
invite the birth parent into your world - help the birth parent envision their birth child in your family by including family traditions, hobbies/interests, travel, etc.

Recruit family and friends to help you make an outline, gather pictures and videos, organize the pictures/videos and text, provide technical support, proof read your text, etc. Not only does this help you get your profiles produced it involves your family and friends in preparing for a new baby in the family.
Tips for Success
o Make it your own! Have each of your profiles reflect who you are as a person, couple, and family.
o Be yourself - allow your pictures, videos, and text to be a reflection of you.
o Individualize each profile and make it unique. Birth mothers can't get to know you if your profile looks the same as every other prospective adoptive family. You are not going to chosen for what you have in common with all of the other families; you will be chosen for something that sets you apart, something a birth parent can connect with.
o Show what makes you a unique family - do you travel, speak more than one language, participate in sports, camp, fish, make crafts, etc.
o Have your profiles show a birth family the type of life their birth child would lead in your family.
o Share those special memories you hope to share with your child - baking cookies together, coaching his/her sport, crafting together, teaching his/her to play the piano, and ….
o When writing your portfolio try not to be too formal. Think of your portfolio as "chatting" with the birth parents.
o Write your text on a 3rd to 5th grade level that is easy to read
o A good rule is … less text, more pictures
o Use action pictures - posed pictures depict you as stiff and inactive versus action pictures show you as fun and active persons ready to run around with a child.
o Have your pictures and video tell the story of your family and how a baby will fit in.
o Pictures should match the text. If you say that you enjoy hiking you need to have pictures of you hiking.
o Label each pictures with names and activity/location. The birth parent is always curious to know who their child will be involved with and where their birth child will be going.
o Use text and pictures that illustrate your readiness to share your life with a baby. For example… "we are looking forward to going to the beach with our child" next to a picture of you enjoying a beach vacation.
o Remember your layout should reflect you (not the baby). Select colors, backgrounds, and art that you like rather than blues, pinks, duckies, and baby bottles. The birth parent wishes to get to know you not what your child's nursery will look like.
o Feature friends and family in your profiles. This will help a birth mother envision her child in your family as she can see her birth child climbing into the lap of grandpa to read a book or playing outside with her/his cousins.
o You may wish to include quotes from family members (e.g. grandparents-to-be) or friends about your family, your life style, and your wish to become parents.
o After you have made your book, ask a friend to look over it for you. Having a fresh set of eyes to see things you may be overlooking can be helpful.
o Have your agency review your book. The professionals at Family Connections, Inc. have insight on what does and does not appeal to birth parents. As well as how to convey to birth parents your desire to adopt.
Have Fun! Bring Your Family to Live through Your Family Profiles.
Since 1994 Family Connections, Inc. has been supporting birth families and adoptive families in their plans for adoption. Family Connections, Inc. is a New York State authorized adoption agency that has achieved Hague Accreditation from the Council on Accreditation. The agency supports birth parents and adoptive families throughout New York State including but not limited to Cortland, Syracuse, Watertown, Albany, Rochester, Binghamton, Elmira, Corning, Ithaca, New York City and all towns in between.
We would be honored to support your adoption plan. Please contact Renee or Anita at 607-756-6574 or info@adoptfamilyconnections.org to learn more about adoption. All services for birth mothers are free and confidential. Family Connections, Inc. offers a free,no obligation, one-on-one, face-to-face orientation for families considering adoption.
Contact Us
Family Connections, Inc.
156 Port Watson Street, P.O. Box 5555
Cortland, New York 13045
Phone: 607-756-6574
Email: info@adoptfamilyconnections.org
Web: www.adoptfamilyconnections.org