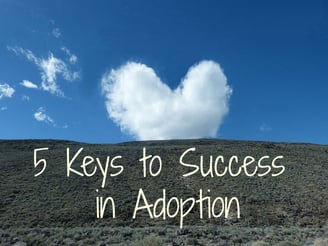 Having been through the adoption process myself I can easily understand the overwhelming feelings that families who are going through the process feel. It was a rush of adrenaline as we began the process and then a lull and emptiness once the paperwork process was done. It seemed like we were either riding high on excitement or feeling anxious about the waiting times. We tried to hold on to the fact that this was a solid decision on how we were going to build our family and that in time this would happen but it was not always easy to wait. Now that I work with families preparing to adopt, if they express their frustration with the process, I try to remind them there are five things to remember:
Organization: This will not be an emotional element of adoption but an important one. You will find staying organized with the paperwork and turning things in to your agency in a timely manner will help keep things moving along. Prepare for the home study process by writing down any questions you may have, learning what the home study visit is about and setting aside enough time to not feel rushed the day of the visit. The paperwork can be daunting but just take it one task at a time and before you know it you will be done.
Courage: The adoption process takes a lot of this. You will need to open yourself up to others questions, opinions and remarks about wanting to adopt. I can remember telling many people we wanted to adopt and getting a great deal of support but also getting a few negative remarks. It wasn't always easy to hear but I had to remember those remarks usually came from those who were not familiar with the adoption process. It was always an opportunity to help them learn differently though. Courage will help you through the unknowns of adoption and the experiences that come with it.
Faith:

Have faith in your decision, believe that you have made the best choice for your family. There is strength in knowledge so stay educated in the trends in adoption. Know that you have educated yourself about the options available to you. Have faith that you have prepared for this and you are ready to adopt.
Patience: You will need a great deal of this. Being patient is probably be one of the most difficult things to do. You have done everything you need to and you are waiting for things to happen, waiting for a child to join your family. Stay informed and prepared and keep in touch with your agency regularly, this will help with being patient for things to happen. Staying in regular contact with your agency is important. There are certain parts of adoption that are out of your control so it is best to be patient and just realize this is part of the process and you have to wait it out.
Persistence:Never lose sight of the end goal of adoption. Keep up to date with the trends in adoption and stay connected to those who have adopted. Stay diligent and don't just think you are done when your home study is done. There are many ways to keep educating yourself and putting yourself out there for the sake of adoption. Telling others of your plans to adopt can seem intimidating but it may help you connect with someone has adopted and can help you through the process.
Adoption can be a beautiful blessing for many families and it can also be very stressful. Try to follow these five keys to success. Adoption is a sharing of lives and love, brining joy and happiness to parents, families and children. I can remember feeling so lucky to have this beautiful baby in my arms and the love that instantly grew in my heart was astounding. Exploring all of your adoption options and learning as much as you can will help you make the best choices for your family.
Family Connections, Inc. is a New York State authorized adoption agency that is Hague accredited by the Council on Accreditation. Family Connections provides home study services for domestic and international adoption, domestic infant adoption and post placement / post adoption services for families all across New York State. If you would like more information about adoption click the link below to request a free no obligation consultation with Anita and Renee or call Family Connections at 607-756-6574.