Adoptive Family Profile for Patrick and Ashley

INTRODUCTION
Hello and welcome! We are Patrick & Ashley from NY. We have been married for five years and are hoping to grow our family through adoption. We sincerely want to thank you for having the courage to consider adoption for your child. We can only image how hard this decision must be for you. We are so hopeful and honored to be considered as prospective adoptive parents.
PARENTING PHILOSOPHY
Patrick & I are looking forward to being parents! We hope to raise our child in a healthy and loving environment. We will be compassionate and full of grace. We believe it is our responsibility to be role models for our children, and to nourish their hearts. We also plan to be proactive and attentive. Patrick and I hope to nurture a strong parenting bond with our child, so that he/she feels comfortable expressing their feelings and coming to us with questions, and so that we can better understand them. We will be proud, doting parents; eager to watch them grow and thrive! We cannot wait for all the laughs, giggles and goofy times we have with our child; playing until the sun goes down! Most importantly, we will provide unconditional love. Unconditional love is love without limits, and without fear of rejections. This child will always have a place to call home and loving arms to hold him/her.
OUR FAMILY
Patrick and I grew up in school together. We were high school sweethearts since 17, walking the halls of high school hand in hand. Patrick however, had his eye on me long before that! My mother came across a letter from old school work that reads, "Patrick loves Ashley," dating back to kindergarten. After getting married in the summer of 2012, we began working together to build our log home on 40 acres of land. Patrick and I have been married for 5 years and are looking forward to opening our hearts and home to a child through adoption.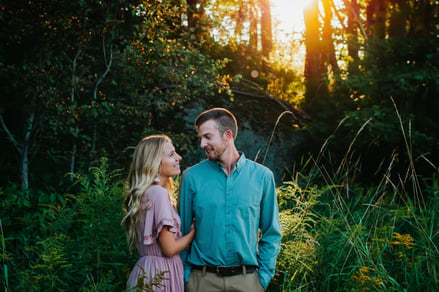 Meet Ashley, Written By Patrick
Ashley makes me a better person; we really do complete each other. She is strong and dedicated. When she puts her mind to something, it happens. She keeps our family on track and organized, whether it's planning our next vacation, paying the bills or making a great meal.
Ashley loves to travel. Since being married we've traveled across the USA and internationally. We also like taking smaller weekend trips in between. I've always told her she should have been a travel agent! We never run out of things to do when she is planning. She also enjoys local travel, like camping, hiking, or gardening. Ashley takes great pride in her gardens. She is a big advocate for clean and healthy eating, and enjoys putting her own food from the garden on the table and blessing our family with healthy meal. Ashley loves children and will make such a wonderful mother!
Ashley has worked very hard to start her own businesses that focus on dog grooming and dog sitting. She has a great love for dogs, and animals in general. Ashley is able to make her own schedule which allows for flexibility and freedom.
Meet Patrick, Written By Ashley
Patrick is such an honorable, and faithful man. Patrick is employed by my father in the logging and excavating business. Patrick is a hard worker and a great provider for our family. Patrick has so many great qualities as a husband that I feel will make him an excellent and caring father!
Patrick enjoys spending time with family and being outdoors. Patrick loves to fish, hunt, ride snowmobiles, and take care of his farm animals. Patrick looks forward to sharing his love of nature and adventure with his future children. Patrick also enjoys coaching our church league softball team. He is a great leader, on and off the field, and his positive attitude makes him a great role model for others around him. He is also encouraging to his team members and never gives up. These are just some of the qualities that will make him a great father!
OUR HOME
We loved our close-knit community so much growing up, we decided to settle down a few miles away, in a cozy 3 story cabin built in 2012. We believe our small town is a great place to raise their family. We love being surrounded by fields and woods, yet within a short drive to town! In the warmer months we enjoy going for walks to nearby parks, which is equipped with slides, swings, swimming, volleyball, tennis and softball. In the colder months we enjoy making snow slides for our nieces and nephew and scooting around the yard on our snowmobiles until its time to warm up with hot chocolate and homemade cookies.
We built our little hobby farm in 2015 and quickly filled it with some great animals. Our animals are friendly and inquisitive. We enjoy farming and take pride in our small farm. Currently we raise all of our own farm-fresh meat such as beef, chicken, eggs, turkey and duck. We believe having a hobby farm is a great way to raise children, teaching them love and respect towards animals and also how to be self sufficient and take pride in hard work. Along with our farm animals, we have three furry friends- Nilla, Scout and Vidalia. They are pocket beagles, which are basically miniature beagles. This trio is full of energy and kisses. Our nieces love coming over to play with them and often end up tiring them out by the end of the day. They enjoy the snuggling and wagging tails that our furry friends provide!
ONE LAST THANK YOU.
It's hard to summarize our lives on one small page, but we hope that this has given you a glimpse inside our lives, home, family, faith and community. We hope that you can picture your child thriving in our home, and growing into a loving individual with a passion for life. From the bottom of our hearts, we thank you for considering us, and pray that you will find peace and comfort in whatever choice that you make!